The Checkmate blog will be used to share stories, achievements, interviews, and more about the world of the disabled and visually challenged chess. It is aimed at improving the reach of the game amongst this sector and around the world. It will highlight the heroic accomplishments of the sports players and athletes, giving them a platform to showcase their potential to the world.

Interested in being covered on the blog? Send your story to projectcheckmate64@gmail.com, and we will get back to you shortly.
Powered by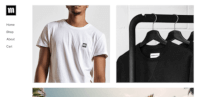 Create your own unique website with customizable templates.